HYDRA
Hydra is an absolute gem of a supplement. The benefits of this highly effective supplement out-perform even those products that contain more active ingredients. Try Hydra today and watch your muscles grow right in front of your eyes.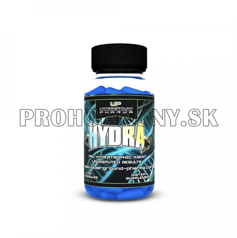 Hydra by Upharma is one of the most popular prohormone (PH) supplements available on the market today. It is both suitable as a first choice PH for newcomers as well as being beneficial to experienced users in the form of extensive muscle growth. Let's take a closer look at what is behind the great effectivenes of Hydra!
Hydra is a perfect example expressing the difference between PH and anabolic steroids (AS). The efficiency of Hydra is comparable to AS with one essential difference. Provided you use the product according to our safety recommendations written below (at the end of the article) there is no risk to your health. Sounds great, right? Numerous studies and extensive research has determined Hydra to be the number one supplement of its kind. Thanks to this product you will experience a massive muscle gain overnight.
As Hydra does not store water in muscles we are talking about pure muscle mass. It is also worth mentioning that taking Hydra maximizes your muscle pump.
Prohormones significantly increase the synthesis of proteins. Therefore, it is recommended to combine prohormones with each other (for synergistic effect) as well as with protein supplements and amino acids.
The biological half-life of Halodrol is at 16hours.
Hydra guarantees excellent results! Our customers have confirmed 5kg muscle growth that's easily maintained after completion of the cycle. This supplement helps pump more blood flow to your muscle tissues that not only has a great visual effect but it also boosts the transport of nutrients in your muscles!
Highly effective and time-tested supplement that guarantees pure muscle growth and a feeling of extreme muscle pump!
· Pure muscle growth
· Suitable for beginners
· Zero aromatase
· Increased testosterone production
· Increased muscle stamina during exercise
Content:
Nutrition Facts
Serving size: 1 capsuleServings per container: 60
Amount per serving %DV
Hydra Blend: 50 mg *
4-chloro-17a-methyl-androst-1,4-diene-3b,17b-diol (HALODROL)
* daily value not established
Other ingredients: Magnesium stearate, rice flour.
Dosage:
Dosage: Manufactured as a dietary supplement. Recommended dosage is 50 - 100mg daily. Take one (1) capsule in the morning and one (1) in the evening after meals. Optimum dosage for beginners is one capsule in the evening. Duration of intake cycle is 4-6 weeks. After completion of the cycle, it is recommended to follow with Arimit for maximum benefit.
Warning:
Warning: This product is to be taken by healthy adults. Do not exceed the recommended daily dosage. Not suitable for pregnant women or women that are breastfeeding. Not suitable for persons with diabetes, persons with high blood pressure or anyone suffering from liver problems. Do not consume alcohol while taking this product. Increase your daily water intake. Keep out of the reach of children. Not to be taken by anyone under 18 years of age.
The manufacturer is not responsible for any damages resulting from taking an incorrect dosage.